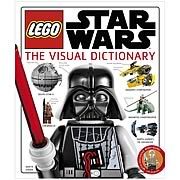 LEGO Star Wars Visual Dictionary
with Exclusive Luke Skywalker Minifig found only with this book
Retail Price: $35.90 (revised price)
Member's Price: S$34.30 (revised price)

IN STOCK NOW
Hardcover Edition with 96pages.



Spaceships, vehicles, creatures, equipment and minifigures: This stunning Visual Dictionary celebrates the entire
LEGO® Star Wars™ history.

SEE A complete illustrated timeline of every LEGO Star Wars set ever produced, including 2009 Clone Wars sets. DISCOVER all the minifigures from Anakin to Yoda. How
LEGO® Star Wars sets are designed and created. EXPLORE Every detail of the Millennium Falcon, Imperial Star Destroyer and Death Star.


LEGO, the LEGO logo, the Brick configuration and the Minifigure are trademarks of the LEGO Group. © 2009 The LEGO Group. © 2009 Lucasfilm Ltd. & TM. All rights reserved. Production by Dorling Kindersley under license from the LEGO Group.