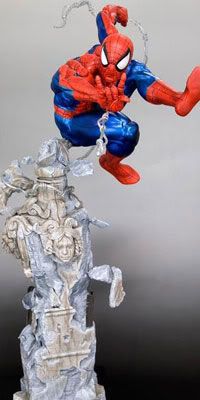 KTMK130 Spider-Man Unleashed Fine Art Statue
A Kotobukiya Japanese import! In 1962 Stan Lee created the character of Spider-Man, the teen aged Peter Parker granted extraordinary powers by the bite of a radioactive spider. With great power comes great responsibility, and Spider-Man would use that power to save lives and protect the innocent. The innovative superhero would go on to become one of the most popular and famous characters of all time, appearing in hundreds of comic books, television shows, and a huge comic book blockbuster film franchise. And now, everyone's favorite neighborhood hero is back in an all-new Fine Art Statue, Spider-Man Unleashed!

Crafted by master sculptor Erick Sosa, the Amazing Spider-Man is slightly over 7 inches tall (1/6 scale) and floats almost 16 inches above the ground in this incredible presentation. Constructed of high-quality cold cast porcelain, Spidey looks great displayed on his own but can also be combined with the upcoming Venom Fine Art Statue (sold separately) to create an integrated battle scene!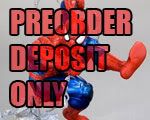 KTMK130 Spider-Man Unleashed Fine Art Statue
Retail Price: S$299.90

(S$275)


Member's Price: S$275

(S$247.50)


Elite Member's Price: S$265

(S$238.50)


Preorder with S$90 Deposit by 7th May to enjoy 10% off respective prices.
Estimated to ship: 4th Qtr 2012